Hubert Cecil Booth - Biography and Facts
Hubert Cecil Booth (1871 - 1955) was a British engineer who and inventor of the first powered vacuum cleaner among other things.
H.C. Booth was born in Gloucester, England on July 4th, 1871. His father was a lumber merchant Abraham Booth, and he had five brothers. He went to Gloucester College and Gloucester County School and learned under headmaster of the school Reverend H. Lloyd Brereton. When he was 18, he passed the entrance examination and entered Central Technical College, later known as the City & Guilds Engineering College, London. His professor there was William Cawthorne Unwin and Booth spent three years there studying civil engineering and mechanical engineering. When he finished college (as a second in his class), he found a job at the firm of Maudsley, Sons & Field, in a firm that was at that time already famous for its engineers. Between 1894 and 1898 he designed Ferris wheels for amusement parks in London, Blackpool, Paris, and Vienna that had diameters from 83m to 92m. In 1899, he designed steel factory in Belgium. A year later he opened a consulting practice in London.
In 1901, he was present at a demonstration of (in his words) "an American machine" at the Empire Music Hall in London. This device was intended for cleaning of railway cars and consisted of an air pump that pumped the air out and blew the dust which worked for that time but didn't get rid of the dust. This didn't satisfy Booth, and he thought that a better solution should exist. He thought that if a filter is placed before the pump and air reversed, to enter the machine instead to exit it, a machine that could do a much efficient job could be built. So he decided to try an experiment: he laid a handkerchief on the seat of a restaurant chair, placed his lips on the handkerchief and sucked the air. When he saw hum much dust have gathered on the handkerchief, he knew that his idea is feasible. What other patrons of the restaurant though of this performance - history doesn't say.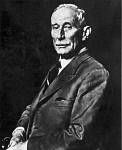 Booth built a machine powered by an internal combustion engine. It used piston pump to draw air through flexible pipes and a filter made of cloth. It was a big machine, and it had to be drawn by horses. It stayed outside the building that it cleaned, and pipes were protruded through the windows to enter the rooms. People called it "Puffing Billy." His next vacuum cleaner was electric-powered, but it was still big to enter the buildings. In the next few decades, Booth founded British Vacuum Cleaner Company (BVCC) which offered cleaning services and whose Chairman and Managing Director he was. They had bright red vans which held vacuum cleaners (a term first invented by the company that marketed Booth's machines) and operated by uniformed operators. AS big as they are these vacuum cleaners are predecessors of those that we use today and which work on the same principle.
Booth continued to do engineering work and from 1903 to 1940, he designed and constructed steel railway bridges, factories and other types of structural steel work. Between 1914 and 1918 he installed many vacuum-cleaning plants in high-explosive factories. During a spotted fever epidemic, he was engaged in cleaning of Crystal Palace at Sydenham for the Admiralty. Of course, vacuum cleaners were used for this job. After the war, he built suspension bridges in Burma, India, and South Africa, and bridges for railway companies in Britain.
Booth wife was one of the daughters of Francis Tring Pearce, director of the Priday, Metford and Company Limited. He died on January 14, 1955, in Croydon, England.